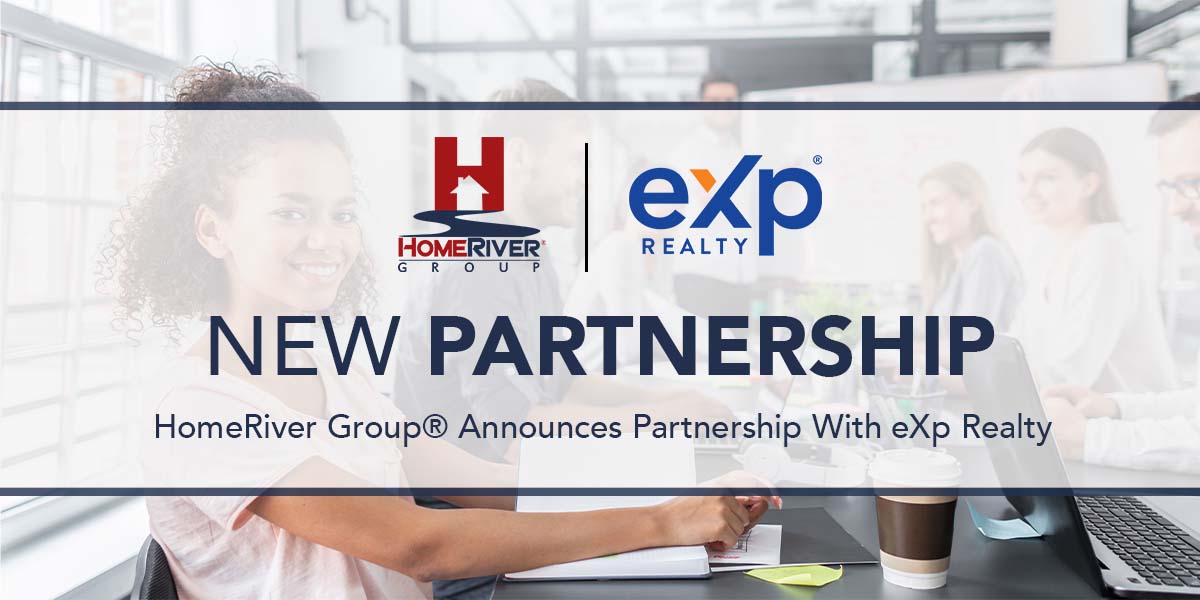 November 7, 2023 – HomeRiver Group, the largest third-party property management firm for single family and small multifamily homes, today announced it is partnering with eXp Realty, making HomeRiver Group a preferred property management solution for eXp Realty agents.
HomeRiver Group manages over 30,000 homes nationwide, offering comprehensive services in property management. These services will complement eXp Realty's brokerages services, with investor and accidental landlord clients needing professional property management to rent and manage their homes.
"We're very excited to partner with eXp Realty, which brings an impeccable reputation among home buyers and sellers. Strong relationships with agents and brokerages are extremely important to us, so we're proud to be their property management solution," says John Hirschfeld, Chairman and CEO of HomeRiver Group.
"At eXp Realty, we always strive to provide the best services for our clients and this collaboration with HomeRiver Group only strengthens that commitment," says Leo Pareja, Chief Strategy Officer at eXp Realty. "HomeRiver Group is a well-respected leader in the property management industry, and their comprehensive offerings will be a valuable asset to eXp Realty agents who are in need of professional property management solutions."
eXp Realty has national agents with deep local real estate experience and knowledge when it comes to buying and selling homes. HomeRiver Group will support these agents' clients, who are real estate investors or homeowners interested in renting out their home. Property management services include analyzing local rent prices, renovating the home if appropriate, marketing the home for rent, tenant screening and communications, rent collection, maintenance, financial reporting, eviction protection, and more.
About HomeRiver Group
HomeRiver Group is the largest third-party property management company of single family and multifamily homes in the United States, managing over 30,000 homes in over 30 states, plus HOA communities with 30,000 additional homes. Clients get one-stop-shopping for management, investment, and real estate services, and have access to standardized systems and best practices. Along with state-of-the-art management platforms, HomeRiver Group brings local presence plus efficiency of scale unmatched in the industry.
About eXp World Holdings, Inc.
eXp World Holdings, Inc. (Nasdaq: EXPI) is the holding company for eXp Realty®, Virbela® and SUCCESS® Enterprises.
eXp Realty is the largest independent real estate company in the world with more than 89,000 agents in the United States, Canada, the United Kingdom, Australia, South Africa, India, Mexico, Portugal, France, Puerto Rico, Brazil, Italy, Hong Kong, Colombia, Spain, Israel, Panama, Germany, Dominican Republic, Greece, New Zealand, Chile, Poland and Dubai and continues to scale internationally. As a publicly traded company, eXp World Holdings provides real estate professionals the unique opportunity to earn equity awards for production goals and contributions to overall company growth. eXp World Holdings and its businesses offer a full suite of brokerage and real estate tech solutions, including its innovative residential and commercial brokerage model, professional services, collaborative tools and personal development. The cloud-based brokerage is powered by Virbela, an immersive 3D platform that is deeply social and collaborative, enabling agents to be more connected and productive. SUCCESS® Enterprises, anchored by SUCCESS® magazine and its related media properties, was established in 1897 and is a leading personal and professional development brand and publication.
For more information, visit https://expworldholdings.com.
Safe Harbor Statement
The statements contained herein may include statements of future expectations and other forward-looking statements that are based on management's current views and assumptions and involve known and unknown risks and uncertainties that could cause actual results, performance or events to differ materially from those expressed or implied in such statements. Such forward-looking statements speak only as of the date hereof, and the company undertakes no obligation to revise or update them. Such statements are not guarantees of future performance. Important factors that may cause actual results to differ materially and adversely from those expressed in forward-looking statements include changes in business or other market conditions; the difficulty of keeping expense growth at modest levels while increasing revenues; and other risks detailed from time to time in the company's Securities and Exchange Commission filings, including but not limited to the most recently filed Quarterly Report on Form 10-Q and Annual Report on Form 10-K.