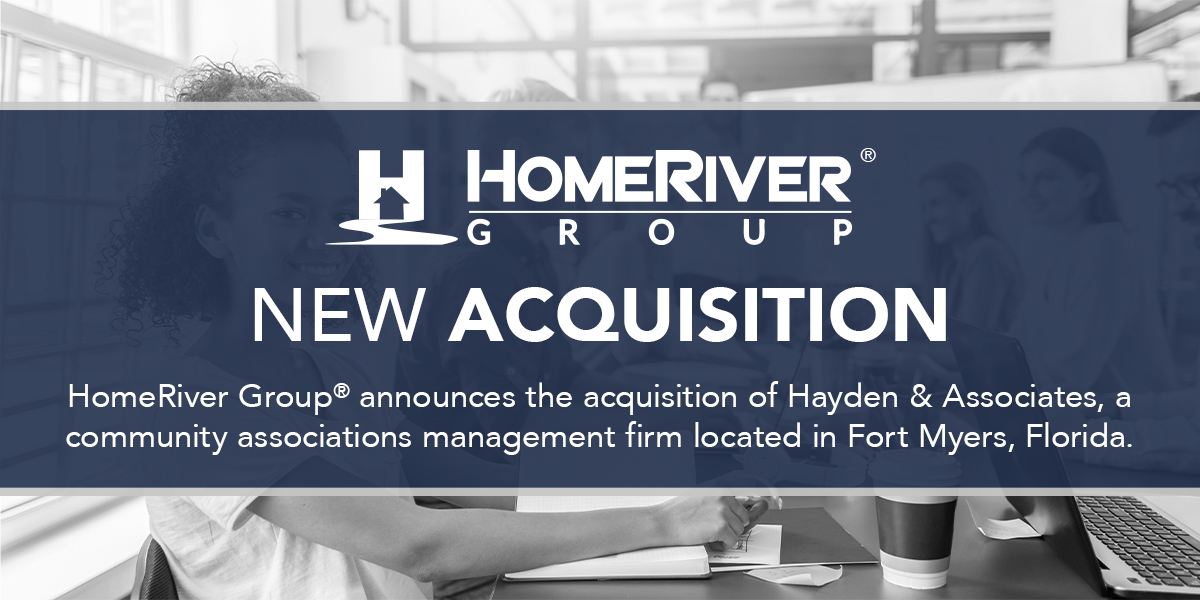 HomeRiver Group® (HRG) , the nation's leading provider of property management services for single family and multifamily investment properties and a leading manager of residential associations, announced the acquisition of Hayden & Associates, a community associations management firm located in Fort Myers, Florida. This acquisition is an important milestone in the growth of HRG, which now manages 27,000 homes and over 20,000 HOA units in over 50 U.S. markets.

John Hirschfeld, Chairman and CEO of HRG, said "HomeRiver Group's acquisition of Hayden & Associates adds tremendous value to our growing portfolio of association clients, and we're excited to offer our superlative value and service in the Fort Myers market."

Brad van Rooyen, National Vice President of HOA Management, said "Hayden & Associates has built a great operation with a dedicated and experienced team and we are excited to continue to build upon that great foundation. The West Coast of Florida is growing and expanding, and this acquisition allows us to further our reach and delivery of industry-leading association management services."

HomeRiver Group ( www.homeriver.com) is a national service platform offering a comprehensive suite of acquisition, renovation, leasing, management, maintenance, and brokerage services to institutional and ind ependent single family and multifamily real estate investors, as well as Community Association Management services for Homeowner Associations.

About Hayden & Associates
Hayden & Associates was established in 2007 and specializes in the management of homeowners and condominium associations. Founded by Ken Hayden and Dee Masterton, Hayden & Associate's goal was to assist and advise associations in appreciation of property values, cost-effective maintenance, and professional administration, in a manner consistent with fiscal and ethical standards in Fort Myers and Naples markets.