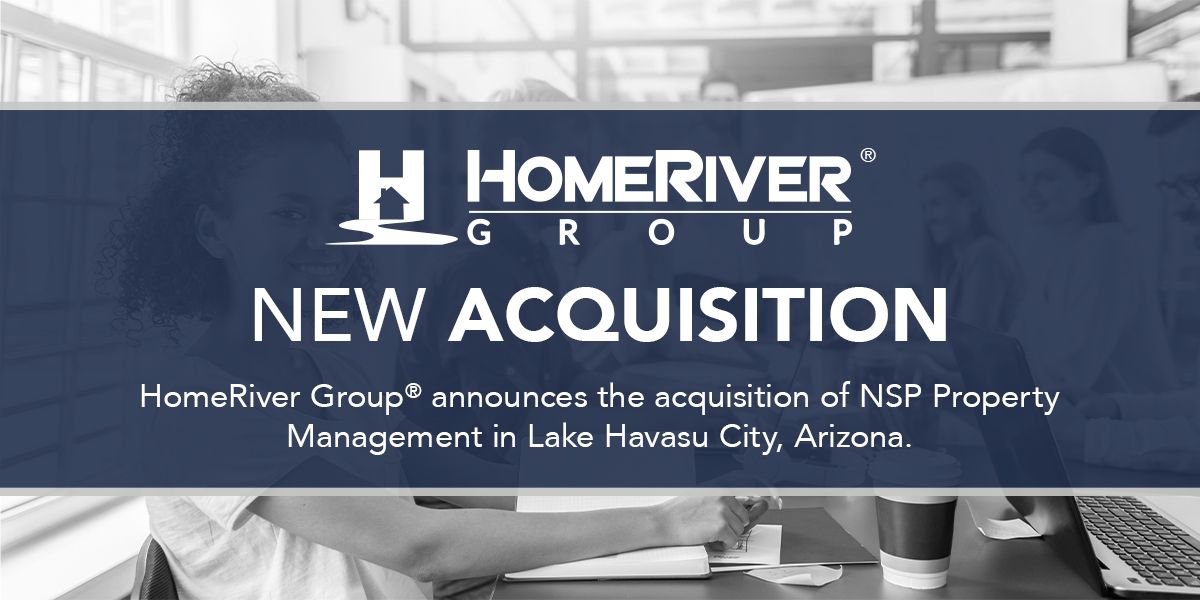 HomeRiver Group® (HRG), the nation's leading provider of property management services for single-family and small multifamily properties, announced today the acquisition of NSP Property Management in Lake Havasu City, Arizona. This acquisition continues to add to HRG's growth as the nation's leading integrated provider of single-family and small multifamily property management in the U.S.
John Hirschfeld, Chairman and President of HRG, said "The acquisition of NSP Property Management, increased HRG's footprint in Lake Havasu from 600 to almost 850 doors, furthering our dominance in that market. One of HRG's most effective avenues for growth is through portfolio acquisitions where we deepen our presence in an existing market and leverage our local and national infrastructure to more expertly and efficiently serve our clients and tenants – all the more so in a case like NSP, where talented and well-trained professionals are willing to come along with the portfolio."
"NSP's strong portfolio of single family, multifamily and seasonal rentals in a growing market folds seamlessly within our current operations" added Andrew Propst, CEO of HRG. "We're excited about continuing our acceleration in residential property management."
HomeRiver Group (www.homeriver.com) offers a comprehensive suite of acquisition, renovation, leasing, management, maintenance, and brokerage services to large and small real estate investors, as well as Community Association Management services for Homeowner Associations. The company currently manages over 25,000 homes, and Homeowner Associations encompassing 19,000 additional HOA units, across 26 states.
About NSP Property Management
NSP Property Management LLC specializes in the management of single-family homes, duplexes, triplexes, apartment complexes, condos, storage units and winter visitor rentals. Started in 2007 by Nicolle Stuhlberg, NSP's mission was simple, to provide the best service to all their clients through honesty, integrity and transparency. Her team's attention to detail, customer service and extensive market knowledge led her to grow her business organically, through word of mouth. As the business grew Nicolle's daughter Danielle joined, and in 2017 Taylor McCaffrey came on board as well. Both now join HRG as valued members of the Lake Havasu Property Management Team, bringing along their focus on providing exceptional service and continued care of the clients.