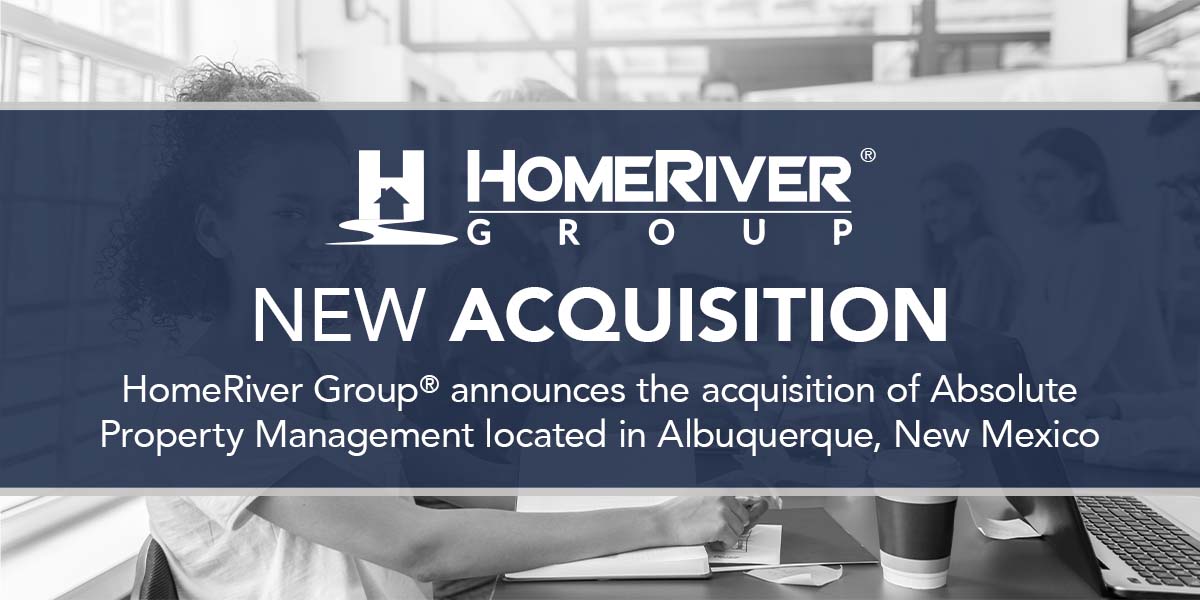 HomeRiver Group® (HRG), the nation's leading provider of property management services for single-family and multifamily properties, announced the acquisition of Absolute Property Management located in Albuquerque, New Mexico (now rebranded as HomeRiver Group Albuquerque). This acquisition continues the nationwide growth of HRG, which now manages 27,000 homes in 29 states and over 50 U.S. markets.

John Hirschfeld, Chairman and CEO of HRG, said "The acquisition of Absolute Property Management in Albuquerque expands HomeRiver Group's services into a new state and very strong market. We're proud to add a local team of talented property managers with extensive market knowledge, and who have an excellent reputation with residents and investors. This is another great addition to our property management portfolio."

HomeRiver Group (www.homeriver.com) is a national service platform offering a comprehensive suite of acquisition, renovation, leasing, management, maintenance, and brokerage services to institutional and independent real estate investors, as well as Community Association Management services for Homeowner Associations.

About Absolute Property Management
Absolute Property Management was established in 2013 and specializes in the management of single-family homes, duplexes, triplexes, and condos. Founded by Michael Schlichte, Absolute Property Management's goal was to provide the highest quality property management services in the Albuquerque market with respect, integrity, and transparency guiding each of their business decisions. Laura Baker joined the team in 2018 to oversee all leasing and management activities in order to help the business continue to grow and thrive. Since joining HomeRiver Group Laura has been established as the qualifying broker for the company and is dedicated to continue the excellent service that all have come to expect from the Albuquerque Property Management Team.